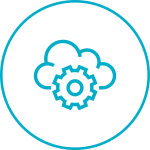 Cloud Computing Platforms: Different Yet The Same
Every cloud platform is different and offers a different set of features, tools and services. Yet, they are more alike than you may think. Below is a list of the most common features that are so similar they may surprise you. In addition, you may not know there are many alternatives out there, besides Google Workspace and MS Office 365.
Email and Workgroup
When it comes to Email, one of the most basic yet necessary services for a business, many think the popular providers offer different services. Yet, apart from minor aspects, they are almost identical. From availability in web browsers to popular software clients such as Outlook, most significant providers give you the same options.
Workgroup features, such as having your email account connected to a calendar and a list of contacts, works almost in the same way.
Last but not least – from a business perspective – using virtual shared mailboxes (for free), despite being named differently, works in similar ways once set up.
Storage and File Sharing
Cloud storage is another feature or service that we can use from most cloud providers and allows both sharing files as well as synchronising your desktop across multiple devices so that you can access your work whilst on the road.
Intranet - Extranet publishing
Once a feature, you'd have to work hard and invest a lot of money to get going; cloud platforms now include the tools to publish web pages, documents and discussions online seamlessly. With the added benefits of easily choosing the level of privacy and permissions for both internal and external participants in the workflow, this feature has become common.
Team Work Tools
Many tools are now available on most cloud platforms, allowing users and teams to manage their workflows better. From chat apps to TO-DO and project management tools, many modern ways to improve productivity are available out of the box.
A pervasive (and popular) feature is video calling or conferencing, giving our employees a chance to continue working even when pandemic lockdowns are commonplace.
Virtual Computing
Although moving to a completely online environment is a strategic challenge, we must not forget that with most cloud platforms today, we get to choose if we use their standard services included or go about building our cloud infrastructure. A common approach is to opt for a hybrid environment, where a combination of on-site and cloud computing solutions optimise costs and productivity.
Micro services & Containerization
A relatively recent trend in the marketplace, microservices are rapidly becoming the norm, allowing deployments of vast and complex infrastructures without the burden of heavy hardware and software management. With most cloud providers offering a multitude of solutions in this space, the sky's the limit in redesigning business infrastructures